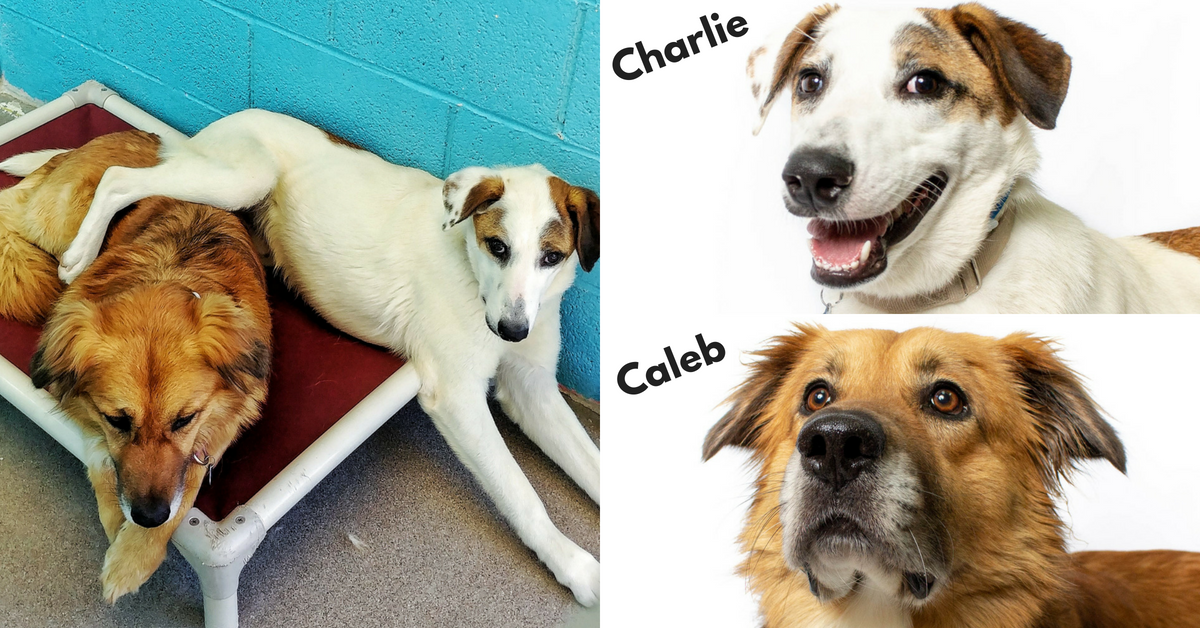 Charlie and Caleb had a tumultuous life before coming to AAWL. A gentle man living in rural California provided a safe haven for dogs he found dumped in the desert near his house for years. As they wandered to his property for food and water, he invited them into his ever-growing pack of abandoned animals. Charlie and Caleb were two of those abandoned animals. They became friends at the small house and looked out for each other like brothers.
One day the unthinkable happened, the good Samaritan who opened his doors passed away unexpectedly in his home - Living alone as he did, no one noticed his absence. For almost a week. Charlie and Caleb, along with over a dozen dogs, scrounged for any food or water they could find trying to survive. Any morsel left in a bowl, any water dripping from a faucet. Sadly, some of their friends did not make it, but Charlie and Caleb stuck together and survived through what was undoubtedly the hardest time of their life. Through partnerships built across states, all the animals were placed with different groups after they were rescued, with Charlie and Caleb travelling hundreds of miles to AAWL.
Caleb, the most shy of the two, spent his first week shaking on his bed, refusing to make eye contact. He shuffled to the farthest corner when anyone tried to visit. How do you convince him he had been through hell, but now was safe? The ever-brave Charlie perched on top of Caleb all day and kept watch, Caleb's "Rock". As more and more volunteers and staff slipped them treats, soft neck rubs, and the always constant, "good boy", Caleb grew confident, and Charlie flowered into a total goofball full of kisses and snuggles. We knew they could now find their new fur-ever homes.
We think they need a fresh start in life, new friends to give them a second chance. They can flourish if  adopted separately and make new memories, happy memories, but they both would love a doggie companion. Caleb would love a mellow, understanding older friend, someone who can give him confidence, but also the space to become his own loving dog. Charlie would love a friend who can match his energy, who loves to play, and who doesn't mind being sat on!
When they went through the hardest chapter of their life, they had each other, but now they need you.