Last week, in partnership with National Mill Dog Rescue, AAWL took in 21 dogs saved from commercial breeders across the country. Due to the poor conditions in which they lived their lives before rescue and the lack of human interaction, NMDR spent months helping these wonderful dogs feel safe and loved. Much like AAWL, they are constantly receiving calls for help. Luckily, due to our relationship built over 7 years and over 200+ rescues together, we were able to help them so they could rescue more this week, and we now can carry on the care of these 21 dogs. To save the most lives, it is vital we all work together for the betterment of these animals, and our team drove to Colorado to make it easier for both groups to save more animals.
Covered in matted fur, scared of human touch, medical issues compounded from years of neglect, the journey for these dogs has been far from easy the last few months. Hundreds of hours spent by staff and volunteers at NMDR has given our staff and volunteers the perfect building blocks to continue their care and find their furever homes. They will slowly be coming up for adoption, as it is 100% on the timeline of the dog when they feel ready behaviorally and medically, but here are some snippets of these wonderful pups.
-Yukon the Klee kai was at NMDR for 2 years and has made incredible strides with them. Shy at first, he walks like a dream on the leash now, and spent the last few days making friends at the front desk and in employees' offices!
-Danny the doodle loved the flirt pole and play bows to new friends, two legged and four legged. He was up for adoption for less than 2 hours before finding his family this weekend He came from the same commercial breeder as the last two doodles we helped rescue, and their coats were so matted from neglect they had to be totally shaved.
Rae the mini aussie was one of their longest residents due to her shyness, but every day is a little better. She likes spending time with Yukon and has made a very special staff friend already at the shelter. She has the cutest sway when she walks!

Stetson is the perfect lap dog! He has overcome many medical issues and actually skipped play time with other pups to sit in laps! Talk about huge accomplishment!
Ole – He grumbles all. The. Time. Happy? Grumbles happily. Long day? Grumbles quietly. NMDR's behavior team put an incalculable amount of hours into making him the good dog he is today. And the grumbles are very endearing :)
Oshen – The sweetest pibble baby girl. She is battling heartworm after receiving no medical treatment until NMDR. The treatment will take months and can be dangerous, but she is doing great with our medical team now. How can you not love that face??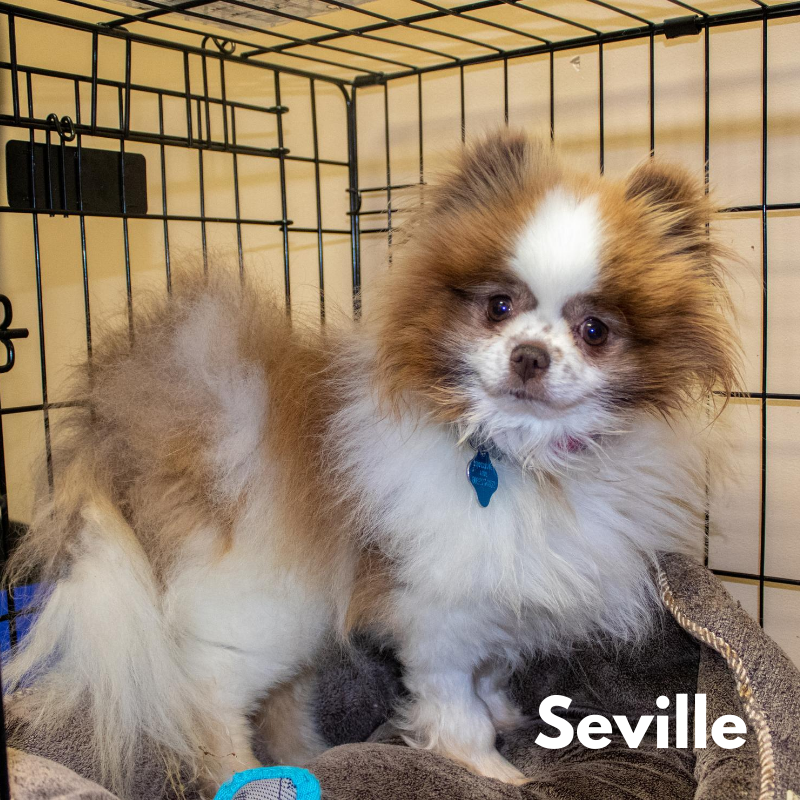 Seville -Seville will receive his own post about the ordeal he has suffered at the hands of commercial breeders. He will be visiting medical specialists for the next few weeks to determine how we can best care for him, but even through all his difficulties, there is happiness in his eyes from the love he has received after being rescued months ago.
Watch our page as we follow along their journey to their new families, and always remember to #AdoptDontShop. This is how we win. The breeders only care about money, and supporting rescue will take away their power.