Tuesday, January 26, 2021

This week, we partnered with Chapman BMW on Camelback for "Beemer's Drive" to one of our Rural Rescue partners! Beemer was rescued from a Rural Partner in northern Arizona in 2019, where she was found in an abandoned house with two other dogs (one with two broken legs) and chickens living in an overturned truck camper. After some TLC from our medical team, she spent her days living at Chapman BMW on Camelback where she was promptly adopted by the general manager and is now living her best life. 
Besides sponsoring 791 adoptions over two years (!), they wanted to give back even more by raising money and collecting supplies for our partner. Our two teams drove over 200 miles to one of our oldest Rural Rescue partners, Gila County Animal Care & Control, and took in 9 amazing dogs, as well as dropped off much needed supplies. The Chapman team helped our team evaluate the dogs, load them into our transport truck, and even named a few! Two of the dogs were also seniors, Gerald(getting the medical exam) and Pepper(shaggy black pupper), like Beemer.
With over 32 Rural Rescue partners, AAWL has saved over 10,000 homeless animals from outside Maricopa County since 2016. These communities sometimes have limited resources, an overpopulation of animals, and few outlets for adoptions. What they always have in abundance is the dedication of good people to save the lives of homeless animals in their community. We are proud to make that difference together.
Thank you Chapman BMW on Camelback for your amazing longtime support, thank you Gila for being such incredible rescue partners and making a difference in your community, and thank you to our supporters that donated to Beemer's drive! Want to keep helping our partners and rescued animals? DONATE HERE!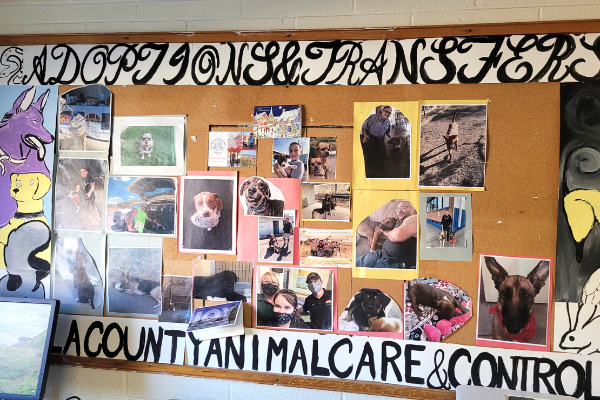 Sidenote: Gila has a really neat wall of their favorite adoptions and dogs, and four of them were adopted from AAWL!!