Thursday, August 13, 2020
They surveyed the house; trash piled up for years, feces covering the floor, and a quick flash of movement in the corner confirmed their worst suspicions.
26 dogs were hiding among the filth in the house, and another group of abandoned dogs at risk of being shot also needed rescue.

This week, The Arizona Animal Welfare League Rural Rescue team drove 8 hours to two of the toughest calls they've answered in years. One of our 32 Rural Rescue partners in Arizona contacted our team about two cases that needed immediate assistance: a hoarding house with over two dozen dogs living inside, and an abandoned property with dogs that were at risk of being shot by the new owner if they weren't removed.
As our team arrived at the first property, along with some members from the AZ Border Collie Rescue that accompanied us, they were overwhelmed by the conditions of the house.  The smell was overpowering. Years of trash had collected around the house; on furniture, counters, covering the floor. Among the garbage was feces and dog hair from years of neglect. 26 border collies who had lived there for years were darting through the house.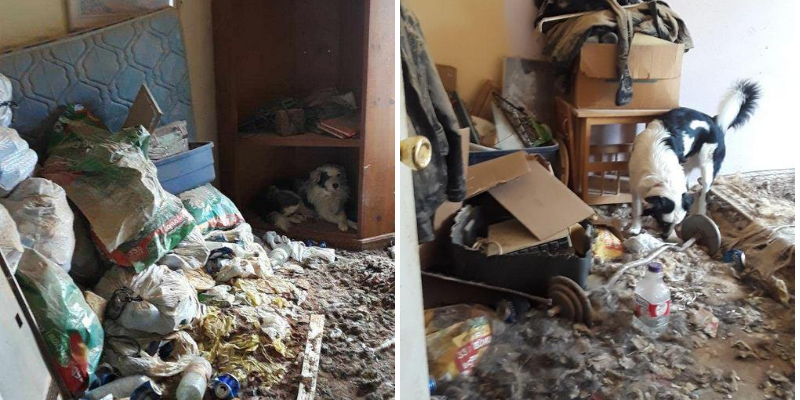 Some craved human affection and ran to our team instantly. Others were slowly coaxed from hiding places, their only safe place for most of their life. But the team saw the hardest cases from afar; piercing eyes, terrified of human contact, teeth snarled in fear and not aggression. Our Rural Rescue team, including one former animal control officer, had over 40 years of combined animal welfare experience. The most terrified dogs eluded them over and over again. For hours, the team worked tirelessly to rescue every dog.

After all 26 dogs had been caught,  and after our team regained their strength after hours of grueling work in the Arizona sun, they began the drive to save the abandoned dogs at risk of being shot.
Abandoned by their previous owner, and the current property owner stating he would "shoot any dogs left", our team knew there was no room for error. Luckily, the dogs had an unbeatable spirit after fending for themselves with the help of our Rural Rescue partner. With stunning eyes, adorable ears, and a profound limp, one dog, Mariley, wobbled slowly to our team. Even without an X-ray, our team knew her injuries were severe.

 The team loaded all the dogs up and began their long journey back to Phoenix, happy and tired but knowing they had made a huge difference in the lives of these wonderful dogs.  They truly embody the spirit and the mission of AAWL.
This is why AAWL built the Rural Rescue Program in 2016. This is why we drive 45,000 miles a year across Arizona to help our partners. This is why we have rescued over 9,000 animals from 32 partners stretching across the state.
They Call, We Answer.
Help us continue our lifesaving work across Arizona. The need is now, please Donate today.