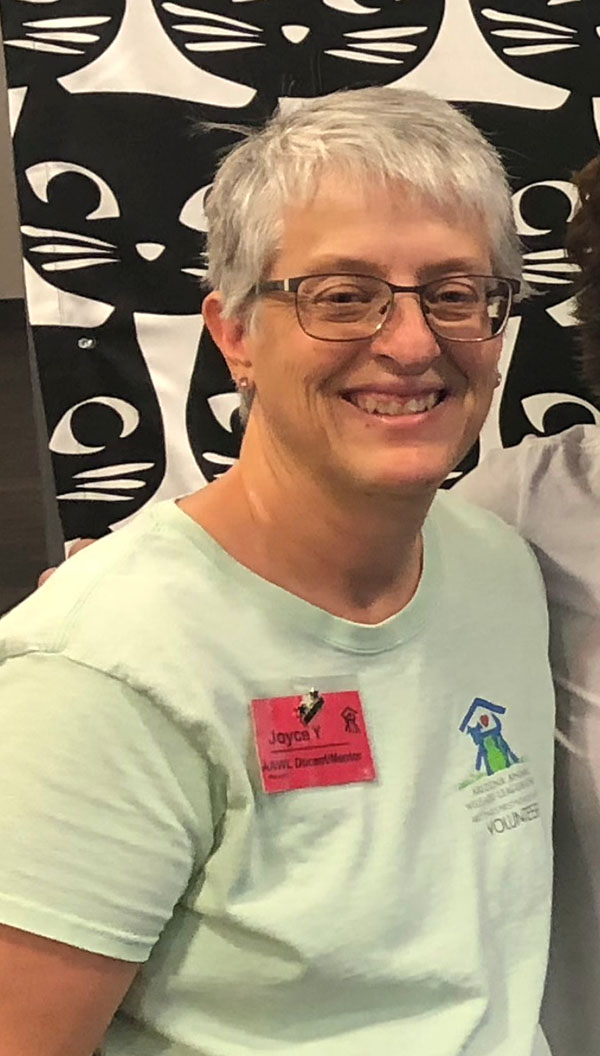 Joyce is a truly wonderful human, not only at the shelter but in her regular work hours as well. She has dedicated her career to special needs children working as a teacher's assistant. She also runs marathons and is a talented artist! Since 2013, Joyce has spent over 1,500 hours volunteering at AAWL (WOW!). Through thick and thin she has been a vital member of our Cattery team. She is at the shelter almost every weekend socializing kitties (especially the ones who need a little extra attention), helping at events, being a mentor to new volunteers or helping with cat adoptions. Whether the events are at the shelter or offsite, where there are kitties, Joyce is guaranteed to be there. She is a regular volunteer at our Kitten Pop Up shops as well as on board whenever we have large scale adoption events at the Main Shelter.
Historically, we have only ever had a handful of Cattery Mentors so Joyce has been a true godsend in that department. She has trained countless new volunteers over the years about the Cattery protocols and cat behavior which extends her capacity to help the cats she loves so much. Not only can she spend time with them herself, she also has an army of volunteers she has trained who can socialize and snuggle our cats in need.
Joyce also spends her free time helping potential adopters find the purrfect kitty for their home! The time she spends with the cats gives her extra insight into what type of home each cat will need to be successful and happy. We owe so much to Joyce for all that she has done for our cats and AAWL as a whole. Thank you Joyce for all that you do! We are truly blessed to have you as a volunteer.