Since 1971, AAWL has been your community shelter, rescuing over 100,000 animals and serving as one of the key agencies in reducing the pet euthanasia rate in our community.
Many may not realize AAWL was founded in 1971 by American actress, Amanda Blake, best known for her role as 'Miss Kitty' on Gunsmoke.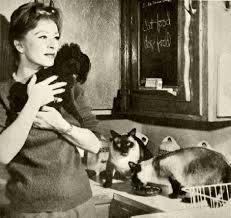 "We are immensely grateful to Amanda's vision to save the precious lives of homeless pets in Arizona" recounts AAWL President & CEO, Judith Gardner, "and have honored her legacy not only by adopting out thousands of animals each year, but also by enriching the lives of hundreds of children through our annual summer camps, building a low-cost public clinic to help keep pets in their loving homes and developing the Medical Miracle Fund to go the extra mile for animals with life-threatening illnesses."
It Takes a Village and the Generosity of Many
AAWL has been championing animal welfare for 45 years, but none of this would be possible without the efforts of so many amazing people:
Over 4,000 annual pet adoptions by individuals and families
Over 150 families who foster more than 1,300 pets until they are healthy and strong
A caring staff and over 500 active volunteers who provide love and support to hundreds of animals
All of you who answer our pleas for donations, time and again
We share with you our rich legacy and the many birthday celebrations of thousands of animals that never would have been.