Friday, November 10, 2023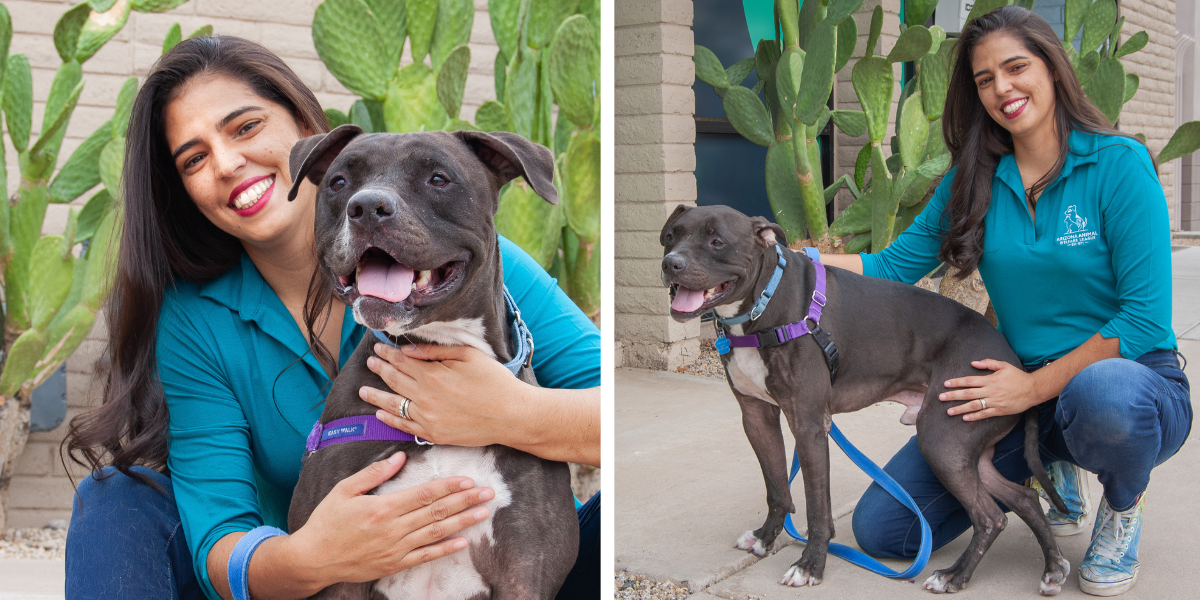 Phoenix Shelters Are Seeing an Influx of Surrenders Due to Rising Costs and Affordable Housing
PHOENIX –  Two local animal welfare organizations are joining forces to reverse the disturbing trend, resulting in more animals being surrendered to shelters because of a lack of affordable housing, job losses, and other economic hardships that make life harder for pets and the people who love them.  The groups, the Arizona Animal Welfare League and The Arizona Pet Project, are partnering by hiring a social worker to help field calls from pet owners seeking to surrender their pets. 
"Our hope is that with additional 1:1 support from a trained social worker who listens and understands how to work with people going through trauma and crisis in their lives, we will be able to meet people where they are and provide them with resources both temporary and long-term to keep their beloved pets with them and out of the shelter system altogether," said Leanna Taylor, CEO of AZ Pet Project, which launched one of the country's first shelter diversion programs nationwide in 2015 onsite at Maricopa County Animal Care & Control. Over the past 7 years, AZ Pet Project has expanded its program, which now includes five social workers who support animal welfare and human service agencies across the State of Arizona and has served over 30,000 families in crisis with pets.
AAWL is now the third shelter AZ Pet Project is working with as part of its long-term goal of expanding shelter diversion programs statewide.  The collaborative efforts are made possible thanks to a $1.5 million grant from Governor Ducey earmarked specifically to help people who are struggling with housing insecurity and homelessness issues through temporary boarding, housing assistance, urgent veterinary care, case management, pet food, supplies, and by providing guidance regarding wraparound services.
"Day in and day out, pet owners come to us, crying in our lobby because they are heartbroken about having to surrender their pets because of evictions or the loss of a job or because they can't afford veterinary care," said Alessandra Navidad, President/CEO of AAWL. "We are overwhelmed with the number of requests, and historically, our focus has been on trying to create kennel space to accommodate those owner/surrender requests. But the solution isn't to separate these families. That is traumatizing for both the animal and the pet owner. The solution is to figure out how to help pet owners overcome those barriers, so the animal stays in the home, where they'll be healthier and happier."
As part of this collaborative effort, a caseworker will be working at the AAWL shelter three days a week, reviewing applications for owner/surrender and initially prioritizing reaching out to pet owners who are surrendering because of housing issues. AAWL will connect pet owners with vet and behavior care.
"There is so much need right now in animal welfare, and resources are limited, so we must be strategic about collaborating to avoid duplication and focus on our respective areas of expertise. This collaboration is a win-win because it leverages AZ Pet Project's long-time relationships with human service providers where they can receive more guidance on how to access safe shelter, medical, mental health, and substance use treatment, rent and utility assistance, food banks, etc., and connects pet owners with existing AAWL community programs such as our behavior hotline, dog training, and community vet clinic," added Navidad.
About Arizona Animal Welfare League
The Arizona Animal Welfare League is the oldest and largest no-kill shelter in the state. Founded in 1971, AAWL has saved the lives of over 100,000 cats and dogs by providing a full range of services for animals and pet owners, including adoptions, behavior training and low-cost medical care. These life-saving programs are only possible because of the dedicated AAWL community, who support the shelter through volunteering, adopting, fostering, and donating. For more information, visit aawl.org.
About The Arizona Pet Project
The Arizona Pet Project is on a mission to create a safer and healthier community for all people and pets by bridging the gap between animal welfare and human services. Founded in 2001, The Arizona Pet Project hired Arizona's first social worker dedicated to supporting people in crisis with pets, and the team has now grown to include five social workers, and two outreach specialists focused on AZ's unhoused and Spanish-speaking community members. The Arizona Pet Project is grateful to its compassionate community members, who understand the human-animal bond should be protected, especially for our most vulnerable and at-risk neighbours. For more information, visit azpetproject.org.