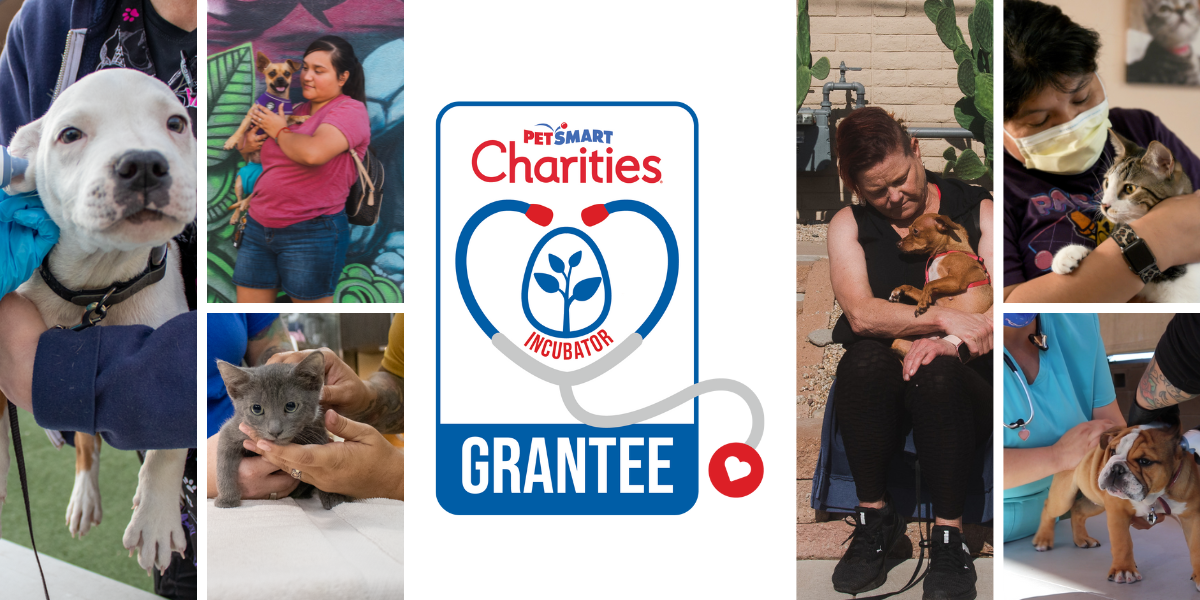 The Arizona Animal Welfare League has received a grant from PetSmart Charities® in the amount of $120,000 to address challenges in accessing veterinary care in identified Latino communities in Central City and East Maryvale.
Rising costs combined with geographical and cultural barriers have left many communities out of the veterinary care system altogether. This grant program supports innovative and culturally relevant veterinary programs.
Early in 2023, PetSmart Charities, the top funder of animal welfare in the US, announced a $100 million commitment over the next five years toward improving access to veterinary care. One of these visionary new grant programs focuses on historically excluded communities, many of which lack access to food, housing, transportation, education and veterinary services. Latino communities were selected to comprise the first cohort of grantee emphasis.
"If we're truly going to improve the health outcomes of pets and stop the vicious cycle of animal sheltering, we must do more to better serve Latino pet owners and deliver services in ways that respects the cultural diversity of pet owners living and working in Phoenix's communities," said Alessandra Navidad, president and CEO of the Arizona Animal Welfare League.
While 70% of American homes feature pets, access to basic veterinary services has not kept pace. This is particularly felt in communities that have additional barriers beyond cost, including language barriers and a lack of veterinary clinics in the vicinity. While 62% of Latino house-holds own pets, accessing resources to keep them healthy and in their homes can be challenging.
Instead of taking pre-planned solutions into selected communities, grantees will build relationships and assess specific needs, first. This ensures that communities that have been left out are deliberately included in deciding how and when they will access the healthcare they need for their pets.
"Most people today consider pets family, yet 50 million pets in the US struggle to access even basic preventative care such as spay/neuter procedures, vaccinations and annual exams," said Kate Atema, director of community grants and initiatives at PetSmart Charities. "While this issue affects families in nearly every community, those who have been historically excluded from human social services are most in need of pet services, too. We're proud to support this innovative approach that meets the unique needs identified by those living in the communities themselves."
PetSmart Charities partnered with AAWL in 2022 to fund a community needs assessment that surveyed over 600 pet owners, including 448 Latino pet owners living in these zip codes – 85034, 85006, 85008 and 85009. The bi-lingual survey from 2022 showed that 50% of pet owners struggled to pay for basic needs, and faced barriers with vaccine availability, veterinary access and limited pet healthcare access.
This partnership will continue in 2023, allowing AAWL to further engage in 85009 in East Maryvale, which was one of the zip codes with the highest needs.
This community-centered approach is intended to continue soliciting input directly from Latino pet owners to develop a plan that helps AAWL realign its veterinary services to better meet the needs of community members like Sonia, who has four dogs and lives in the community.
"I really like animals," said Sonia. "I'm very sensitive when it comes to them." Having always expressed a lot of love and empathy for animals, Sonia is drawn to helping whenever she can. When available, Sonia spends her time speaking with pet owners who primarily speak Spanish. She understands how hard it is for Latino community members to find services that are accessible. Oftentimes, she finds that locations are too far, appointments are too long, or there are issues with language barriers that discourage owners from bringing their pets in.