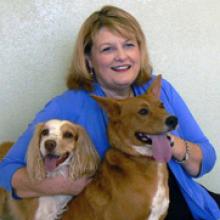 President & CEO
Judith Gardner has been fortunate to be able to follow her passion for helping animals, joining AAWL as President & CEO in January, 2008 after moving to Phoenix from New York. Born and raised in Des Moines, Iowa, she also lived in Georgia and Wisconsin before moving to New York. Her previous career was as Vice President of American Express in New York City for 16 years, followed by a few years consulting with non-profits on management and marketing issues. Her son, Mark, his wife Thida and their little boy, Mark III, live in Cave Creek. Daughter, Laurie and Judith's mother, Katherine, live nearby as well. Judith currently has two rescue dogs, Bella, a Spaniel mix and Penny, whose ancestry is undefinable.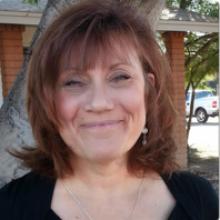 Director of Shelter Operations
Chris joined AAWL in October, 2014. Chris has a diverse business background with 12 years in the high-end pet care industry and a decade as a small business owner. Her experience in marketing, purchasing, staff training and development, project management, customer service and operations management prepared her for her current position of overseeing all shelter operations and staff. A Northern California native, Chris and her children moved to Arizona 16 years ago. Her dog, Radar, a rescued terrier mix welcomed a new adopted Schnauzer mix, Jack, to the family shortly after she joined AAWL.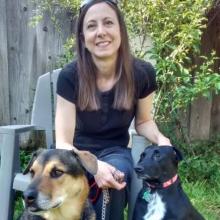 Director of Finance
Danielle joined the AAWL team in April 2015 bringing with her years of experience in Accounting. She is thrilled to have found an opportunity where she can combine her love for animals and her career. Danielle has been through the complete volunteer orientation and kennel training at the main shelter. On any given day you can find her socializing with a shelter dog (and the occasional cat) in need, welcoming them into her office for some quiet time. She enjoys playing the piano, gardening with her husband and spending time with their two rescue dogs – Gambit, a German Shepherd/Rottweiler mix and Winky, a one-eyed, Labrador Retriever/Terrier mix.
Director of Volunteers & Special Events
Originally from Northern California, Whitney moved to Arizona where she graduated from Arizona State University. Before joining AAWL in 2014, Whitney led the marketing and special events department of a local publishing company where she helped produce 13 events, eight magazines and two Expos annually. Prior to that, she was involved in a variety of event management activities which included weddings, parties, charity auctions, sports and travel events and business award ceremonies. Whitney is so happy to be able to work at a job she loves, for a cause she loves, at AAWL.
Whitney and her husband, Tyler, live in Tempe with their AAWL Alumni, a cat named Vladimir Tostada, and a pittie named Evie Enchilada...plus a long list of foster dogs, cats, puppies and kittens are visiting the Steele home at any given time. When not working, they enjoy Whitney's parents' ranch in the Texas hill country.
Director of Marketing and Communications
Ever since the kitten born in his closet when he was 4 years old, Michael Morefield has loved every animal he has met, wild and domestic. Michael graduated from the University of Arizona (Bear Down) and moved from odd job to odd job, looking for something that gave him purpose. Michael then realized volunteering with local charities gave him the most joy in life. His love of animals guided him to AAWL in 2013, and he has been grateful for the opportunities working his way up through the company to director of marketing and communications. He loves being a cheerleader and champion for all the pets at AAWL, either in the media or wacky projects and promotions. When not fostering puppies or mentoring animal advocates, Michael loves to spend his free time gardening, traveling, working on classic cars, and spending time with the two dogs that run his life; Ryker and "Bratty" Addie. Both rescues, Addie was returned four times to AAWL for her shyness before Michael "Foster Failed" and adopted his sweet girl.
Chief Development Officer
Growing up outside of Denver, Colorado, Melissa Steimer could be found out in the fields gathering up snakes and lizards or at home raising rabbits and chickens. The love for animals and the outdoors are her passion. It was when Melissa moved to Omaha, Nebraska and obtained her Bachelor's and Master's degree at Creighton University and University of Nebraska at Omaha, respectively, where she fell into her second passion of raising funds for nonprofits. She has now been raising funds for over 23+ years for some wonderful causes but it was her first fundraising job at the Nebraska Humane Society that had her keep coming back to animal welfare. Since then she has worked for Best Friends Animal Society and PetSmart Charities and is so glad to be coming back full circle at Arizona Animal Welfare League.
Melissa enjoys living in Phoenix, Arizona with her animal-loving family - Her husband Scott, son and daughter, Charlie and Grace and 4 loving dogs (Val, Roi, Dachs and Dixie), their parrot, Bogey and a bearded dragon, Rex. All of the animals and family enjoy time outdoors in their backyard where they garden and grow tropical fruit trees, plus it is where you will find the occasional dog swimming in the pool.