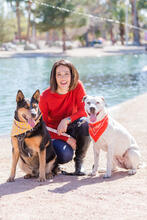 President & CEO
Alessandra comes to AAWL after serving as executive director of a non-profit legal advocacy organization in Phoenix, Arizona. Although she was trained as a journalist, she left her career as a journalist to pursue her dream of becoming a veterinarian. While taking prerequisite science classes, she worked as a veterinary assistant in Miami, Florida, caring for many injured, sick animals. She is the proud mom of both the two- and four-legged kind, sharing a home in South Phoenix with her husband, Alex, their four kids ages (ages 13 thru 16) and two fur-babies, a pitty rescue named, Charli, and Olie, their cattle dog rescue. Alessandra graduated from the University of Florida with a bachelor's degree in journalism and an MBA from the University of Arizona's Eller College of Management. She was born and raised in Miami, Florida to immigrant parents from Brazil and Argentina and speaks fluent Spanish and Portuguese.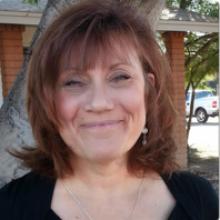 Director of Shelter Operations
Chris joined AAWL in October, 2014. Chris has a diverse business background with 12 years in the high-end pet care industry and a decade as a small business owner. Her experience in marketing, purchasing, staff training and development, project management, customer service and operations management prepared her for her current position of overseeing all shelter operations and staff. A Northern California native, Chris and her children moved to Arizona 16 years ago. Her dog, Radar, a rescued terrier mix welcomed a new adopted Schnauzer mix, Jack, to the family shortly after she joined AAWL.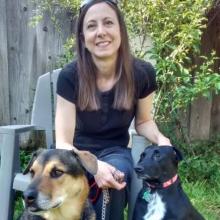 Director of Finance
Danielle joined the AAWL team in April 2015 bringing with her years of experience in Accounting. She is thrilled to have found an opportunity where she can combine her love for animals and her career. Danielle has been through the complete volunteer orientation and kennel training at the main shelter. On any given day you can find her socializing with a shelter dog (and the occasional cat) in need, welcoming them into her office for some quiet time. She enjoys playing the piano, gardening with her husband and spending time with their two rescue dogs – Gambit, a German Shepherd/Rottweiler mix and Winky, a one-eyed, Labrador Retriever/Terrier mix.
Director of Volunteers & Events
Originally from Northern California, Whitney moved to Arizona in 2003 to attend Arizona State University - Go Devils! Before joining AAWL in 2014, Whitney led the marketing and special events department of a local publishing company and was involved in a variety of event management activities which included; parties, charity auctions, sports and travel events, and business award ceremonies. Her path lead her to AAWL where she could combine her love for events and volunteer management with her passion for homeless animals. Her greatest joy is working with the hundreds of AAWL volunteers each year and AAWL supporters who care so deeply for AAWL's mission. 
Whitney and her husband, Tyler, live in Tempe with their two young boys and their AAWL Alumni cat, Vladimir Tostada, and AAWL Alumni pittie, Evie Enchilada...plus a long list of foster dogs, cats, puppies and kittens. When they aren't wrangling kids or animals they enjoy spending time at Whitney's parents' ranch in the Texas hill country with their gaggle of farm animals.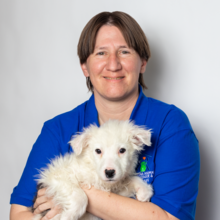 Director of Animal Management
Born and raised in Texas, Elisha moved to Arizona in 2012 by way of California, while working as a dog trainer. Elisha joined AAWL's behavior department in 2013, taking over as manager in 2015; adding intake in 2016 and dog training in 2019. Elisha has degrees in History, Biology and a Master's of Social Work. She uses these critical thinking, assessment, and development skills to help animals. Elisha played a critical role in developing AAWL's transport partner program and coordinates the on-going program, not only managing the intake but coordinating AAWL's reciprocal outreach to our partners. Elisha and her spouse reside in Phoenix with their 11 dogs, 10 of whom have special needs.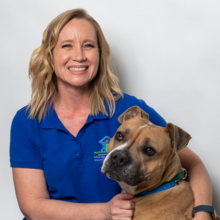 Director of Customer Service
Jenna joined the AAWL team in June of 2018. She started as an adoption counselor at our Chandler location and quickly worked her way into the Adoption Manager position at our main shelter. Her entrepreneurial background in the restaurant and pet care industries has provided her with the experience for her current position as the Director of Customer Service. Prior to joining the AAWL team, she owned and operated a successful pet sitting business with 7 employees. She has also owned and operated several Cold Stone Creamery's. Jenna is an Arizona native with four dogs at home - 3 rescue boxers and a cocker spaniel.