The Arizona Animal Welfare League is a proud member of the Alliance for Companion Animals and one of the founders of the community collaboration known as Fix.Adopt.Save.  Starting in 2012, seven of the largest animal welfare organizations in Phoenix came together specifically to address the urgent issues of pet over-population in our community.  Supported by funders including PetSmart Charities and the Nina Mason Pulliam Charitable Trust, we have made great strides in our mission, which is:
We will dramatically increase low-cost and free spay/neuter services available in targeted areas as we strive to reduce shelter intake and euthanasia. These services will focus on at-risk animals such as cats, pit bulls and Chihuahuas as well as dogs and cats in certain geographic areas.
We will increase the number of adoptions by creating more retail adoption centers, fostering more kittens until they are old enough to be adopted and focusing on adult dogs who need a little extra training or medical care.
We will encourage responsible pet ownership and provide resources to those in our community as we aim to "change the equation," for homeless animals in Maricopa County and strive to keep animals out of the shelter system.
The result of the first three years of our collaboration has been amazing! As shown in the chart below, together we've lowered the euthanasia rate in Maricopa County by 71% since the inception of this collaborative effort!  We look forward to continuing to contribute to this incredible mission, with even more success in the years to come.
Results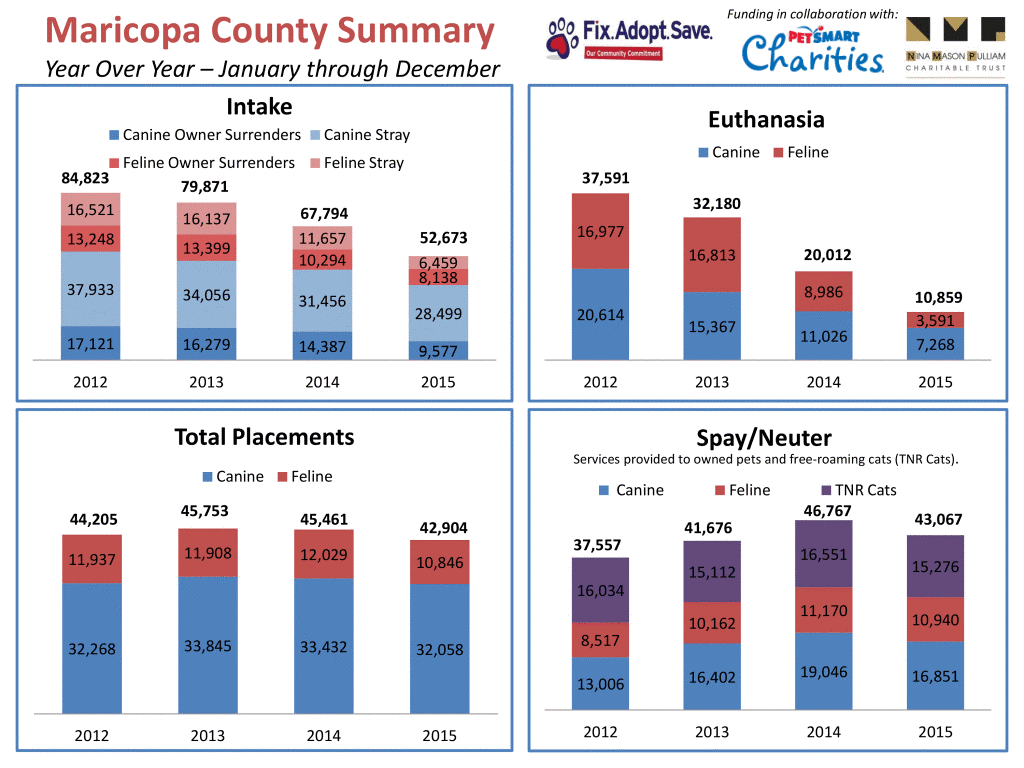 ---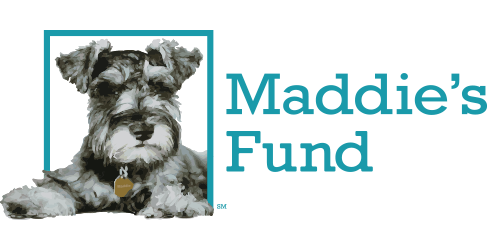 About Maddie's Fund™:
The Maddie's Fund® mission is to revolutionize the status and well-being of companion animals
Maddie's Fund is a family foundation created in 1994 by Workday co-founder Dave Duffield and his wife, Cheryl, who have endowed the Foundation with more than $300 million. Since then, the foundation has awarded more than $187.8 million in grants toward increased community lifesaving, shelter medicine education and pet adoptions across the U.S. The Duffield's named Maddie's Fund after their Miniature Schnauzer, Maddie, who made them laugh and gave them comfort. Maddie was with Dave and Cheryl from 1987 - 1997 and continues to inspire them today.
Maddie's Fund is the fulfillment of a promise to an inspirational dog, investing its resources to create a no-kill nation where every dog and cat is guaranteed a healthy home or habitat.
Maddie's Fund was very instrumental in building most of the major animal shelters and rescue groups in the Valley (including AAWL) by providing substantial grants for many years through their "Maddie's Project in Maricopa County" which concluded in 2009. They continue to provide funding to many individual organizations throughout the U.S. on a variety of animal welfare issues.
2018 Shelter Statistics | 2017 Shelter Statistics
2016 Shelter Statistics | 2015 Shelter Statistics | 2014 Shelter Statistics
2013 Shelter Statistics | 2012 Shelter Statistics | 2011 Shelter Statistics 
2010 Shelter Statistics | 2009 Shelter Statistics | 2008 Shelter Statistics