This month's Ruff Draft Book: "The Martian" by Andy Weir
Six days ago, astronaut Mark Watney became one of the first people to walk on Mars. Now, he's sure he'll be the first person to die there. After a dust storm nearly kills him and forces his crew to evacuate while thinking him dead, Mark finds himself stranded and completely alone with no way to even signal Earth that he's alive—and even if he could get word out, his supplies would be gone long before a rescue could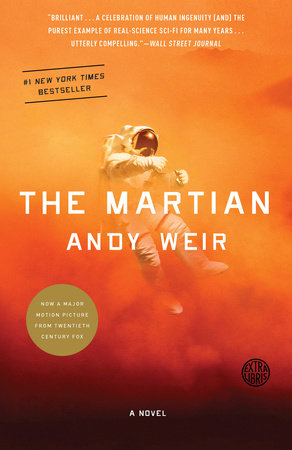 arrive. Chances are, though, he won't have time to starve to death. The damaged machinery, unforgiving environment, or plain-old "human error" are much more likely to kill him first. But Mark isn't ready to give up yet. Drawing on his ingenuity, his engineering skills—and a relentless, dogged refusal to quit—he steadfastly confronts one seemingly insurmountable obstacle after the next. Will his resourcefulness be enough to overcome the impossible odds against him?
July meeting is being held at Walter Station Brewery, right behind our main shelter.
Do you love animals and reading? Join the only book club that helps homeless pets get adopted! Arizona Animal Welfare League introduces Ruff Draft, where you can read to our shelter pets. There is no cost to join! It's very simple:
1. Borrow one of the monthly book club books from the lobby, graciously donated by Changing Hands Bookstore.
2. Choose a dog or cat of your choice that would love some company.
3. Sit outside one of our dog kennels or inside one of our cat rooms and read as much as you want! P.S. We have pillows you can borrow.
4. Once you're done reading, return the book to the lobby. If you want to pick up your own copy, stop by one of Changing Hands Two locations, then finish the book before our monthly meeting!
5. Attend our once a month Ruff Draft meeting at our main shelter and discuss the book, and your favorite adoptable pets!
REMINDER: This date is for the Book Club Meeting for book discussion, Reading to the dogs and cats can be done anytime our adoption locations are open! There is no reading during the actual book club meeting.
Why does a shelter have a book club? Studies have shown the positive impacts of simple interactions such as reading to dogs on the mental wellbeing of animals. Shy dogs can help gain confidence, energetic dogs learn how to be calm and relax, curious kittens learn to trust and play with people! It's a Win/Win as you also expand your reading list and help get homeless animals adopted by posting them on social media, as well as help them spend their time in the shelter in a fun way.
Note: you must be 18 or over to participate in Ruff Draft, as the books we choose are adult fiction. We do have a reading to dogs program for kids HERE!
Event Date
Thursday, July 25, 2019 - 6:00pm
Event Requirements/Prerequisites
Please complete the book before book club, we will be discussing it at Ruff Draft. There is no reading time during our meetings.
Event Location
Walter Station Brewery
85034
Phoenix
,
AZ
US
Event Contact
mmorefield@aawl.org