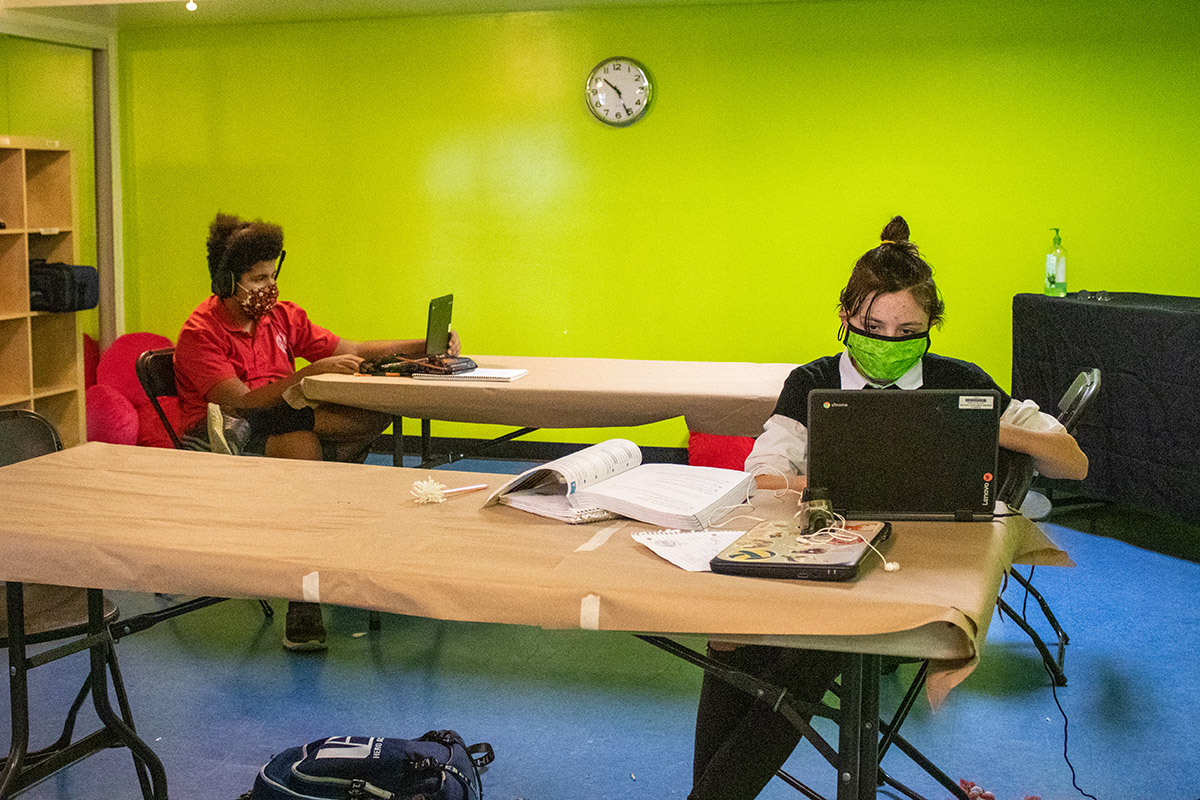 The Education Department at AAWL is committed to serving our community and assisting with the current education and social needs of families.
When you leave your child with us, you can be sure there is supervision, safety and socialization throughout their day. We will remain in compliance with current health guidelines and regulations and follow a sanitization schedule each day on all common surfaces (tables, doorknobs, counter tops, light switches). There will be a strict maximum of 12 students and 2 instructors per classroom. Temperatures will be taken upon arrival each day for all staff and students.
Our classroom is 900 square feet and well ventilated with three ceiling fans, two opening windows and three doors. A maximum of two students will be seated at each table so that a minimum of six feet will be maintained by students during their online work.
Each of our instructors has a background and experience in education and will help your student with their online courses as needed. Students will eat snacks and lunch in a separate lunchroom, allowing time for socialization and a chance to "get their wiggles out". During break times, students will have the opportunity to help our zookeeper with some light zookeeping duties, work on a craft, play games with others or help our shelter dogs by reading to them.
For more information, please email eduadmin@aawl.org
AAWL reserves the right to cancel our Guided Learning program if the minimum number of 5 registrations are not met 48 hours prior to the class. You will be notified via email if the program has been canceled.
Event Date
Thursday, September 10, 2020 -

7:45am

to

3:00pm
Event Requirements/Prerequisites
What you will provide:
Mask / Face covering for your child to cover the nose and mouth while in the classroom
Laptop computer
Headphones
Microphone
Your child's school day schedule
Lunch
Snack
Bottle of water
What we will provide:
Temperature checks on all staff and students each morning
Socially distanced seating of 6 feet or further from nearest student/s
Well ventilated room with ceiling fans and windows
Twice daily sanitization of common surfaces
Fast wifi connection
Supervision in classroom by experienced Education Department staff
Guidance for students to keep to their scheduled coursework
Help students understand coursework instructions, problems and stay on task
Visits from two or more of our exotic Animal Ambassadors throughout the school day
*Supervised lunch, snack and break times with non-screen activities such as games, crafts, possible "field trips" to visit shelter cats and dogs
*Some students will have lunch and breaks at different times of the day so activities may vary throughout the week for your student. Our best efforts will be made so that your student can experience all activities by the end of the school week
Please visit our FAQ page for more information.
Event Location
Arizona Animal Welfare League & SPCA
Education Campus, 15 North 40th Place
85034
Phoenix
,
AZ
US
Event Contact