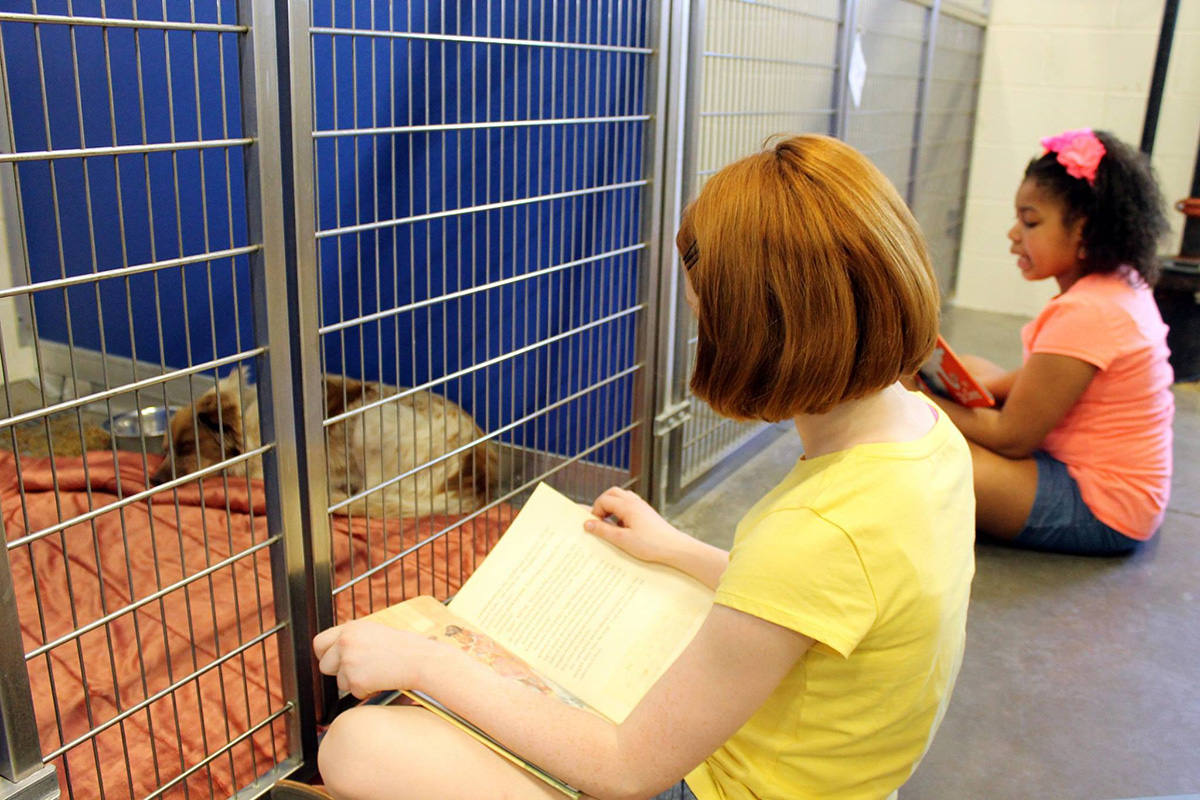 The Arizona Animal Welfare League & SPCA offers unique and hands-on field trips for grades K-12. Our programs offer classroom time with qualified instructors and tours of our animal care facility. Our State standard meeting topics focus on animals, their natural history, proper care, conservation and safety.
Our specialized veterinary medicine program for older students offers an up-close encounter with animals and covers basic techniques vets and vet techs use every day!
AAWL & SPCA's animal science field trips are designed to complement your school district's education objectives, and correlate with Arizona Academic Standards.
Programs are available from August – May, and may start at 9:00 am, 9:30 am, 10:00 am, or 10:30 am.
Registration Fee:
2 hour field trips: $10 per student (20 student minimum)
3 hour field trips: $20 per student
Submit Field Trip Request Form
Field Trip Programs
---
Field Trip FAQs
Q: What should students bring on a field trip?
A: A water bottle, a hat, walking shoes, and be dressed appropriately for the weather.
Q: How many instructors/chaperones are permitted?
A: 5 adult instructors or chaperones may come at no charge. Any above 5 must pay the participant fee.
Q: Can chaperones bring along other children or small children in strollers?
A: We depend on chaperones to devote their full attention to the school group. We do not have adequate space to accommodate strollers and small children. Only enrolled students are permitted on a guided field trip.
Q: Can we have a snack or meal at the adoption center?
A: There are no picnic areas on the AAWL & SPCA grounds. We have no eating facility to accommodate groups. Picnic grounds are available at nearby Papago Park, 602-256-3220.
Q: How long are guided field trips and when are they offered?
A: Guided field trips are two hours from the time you arrive to the time you depart, unless otherwise noted in description. Field trips are offered at 9:00 am, 9:30 am, 10:00 am and 10:30 am, Monday-Friday, October-May.
Q: How much do school field trips cost?
A: Guided field trips are $10 per student; teachers and chaperones are free. Students attending Junior Vet and sixth grade field trips are $20 per student due to lab fees.
Q: Is there a limit to the number of students we can bring at one time?
A: The AAWL & SPCA's Education Campus is limited on space; therefore this reason we limit the group size to 50 students per visit. Groups will be separated to accommodate larger classes.
Q: Will I be able to walk around with my class on our own prior to or at the conclusion of a guided tour?
A: No. There are many adoptions taking place and daily animal care in progress. All groups are escorted by an AAWL & SPCA instructor so that each group has a successful field trip.
Q: Are discounts available for Title I schools?
A: October through February Title I Schools may be eligible for field trip visits dependent on funds available.
* All field trip submissions are reviewed, however, AAWL does not guarantee the fulfillment of your request.
Cancellations received less than 48 hours prior are subject to a cancellation fee.
Q: How do I pay for a group visit?
A: Purchase orders, cash, checks, and credit cards are all acceptable forms of payments. You may mail or fax a purchase order to the Education Department in advance. When you arrive, please have your final count of students, teachers, and chaperones ready along with the entire payment.
Q: Where does our class go when we arrive?
A: Your school guide will meet you at your bus. If you are arriving by car, your school guide will meet you at the black gates in front of the AAWL & SPCA Training and Administrative Center.
Q: What are the guided tours and classes?
A: Guided tours are themed tours that provide highly interactive and hands-on experiences as studenst view our animal care and adoption facility. A large portion of the students' time will be spent in a classroom with one of our qualified instructors. Instructors lead students through a series of engaging activities, animal encounters and a culminating experience designed to support the theme of the field trip. The students are divided into smaller groups and develop a meaningful rapport with their instructor. All materials are provided.
Q: I teach students with special needs, can I sign them up for a tour?
A: Yes! for groups of 10 or more students. Take a look at the tour descriptions and recommended grade levels to determine which tour would best meet the needs of your students. School guides are trained to adapt tours to meet the abilities and interests of the groups they guide. Please let us know when you register if you have select students or an entire group of students with special needs, then we can better plan to accommodate your group.
Q: Do the field trips meet Arizona Academic Standards?
A: Yes! These tours meet many of the standards – Visit the Arizona Academic Standards website.