This Veterinary career exploration program is a hands-on, fun, and interactive experience. This series is designed to offer your future vet a real life look in to the world of veterinary medicine. Ages 13-17.
Attend both classes and clinic day and receive a certificate of completion. (Looks great on college applications)
Topics
"Shelter Medicine and Health Screenings" (choose one of the following dates)
Saturday, November 10, 2018 - 9:00am - 12:00pm
This class is all about learning the basics of what a veterinarian might do on a typical day. Here the participants will learn basic veterinary medicine including how to vaccinate and microchip animals, perform a physical exam on animals and what signs to look for to determine if an animal is healthy or sick. Jr. Vet's will also delve deeper by learning how to read radiographs, diagnose a disease in animals by looking at their signs and symptoms, and exploring how diseases can be prevented in animals.
Fee: $80.00
*AAWL reserves the right to cancel Jr. Vet Experience if the minimum number of 3 registrations are not met 48 hours prior to the class. You will be  notified via email if the program has been canceled.
"Lab Sessions, Ethics, and Diseases" (choose one of the following dates)
Sunday, December 16, 2018 - 12:00pm - 3:00pm
Building on the information learned in "Shelter Medicine and Health Screenings," participants will learn more about animal anatomy by looking at organs in real life and on paper. During this class, Jr. Vets will practice their knowledge of anatomy and physiology while demonstrating proper tool use and technique during lab sessions. Participants will also have a chance to learn suturing techniques that a veterinarian may use in their daily practice. Jr. Vet's will also discuss what it means to be a veterinarian and the tough ethical decisions that involve veterinary medicine, along with how veterinarians become detectives to learn how to diagnose and manage different diseases. 
Fee: $85.00
"Clinic Day"
Clinic Day will be scheduled during school breaks on an individual basis for those that have taken all of the previous classes.
Sunday, November 25, 2018 - 1:30pm - 3:00pm
Now's the time for Jr. Vets to practice what they have learned in the 2 classes! Jr. Vets will learn how veterinarians conduct their appointments from start to finish, participate in a mock clinic, take a tour of our shelter clinic, and meet some of our veterinary staff! At the end of the Clinic Day, all Jr. Vets will receive a certificate of completion for all their hard work and dedication.
Fee: $40.00
Registration for Clinic Day is open to individuals at the completion of both classes. Please email EduAdmin@aawl.org for information on the available Clinic Days and to receive the link to register. 
Fee:
Fee varies per class
Upcoming Sessions:
There are no upcoming dates scheduled for this program. Check back soon!
AAWL Education Center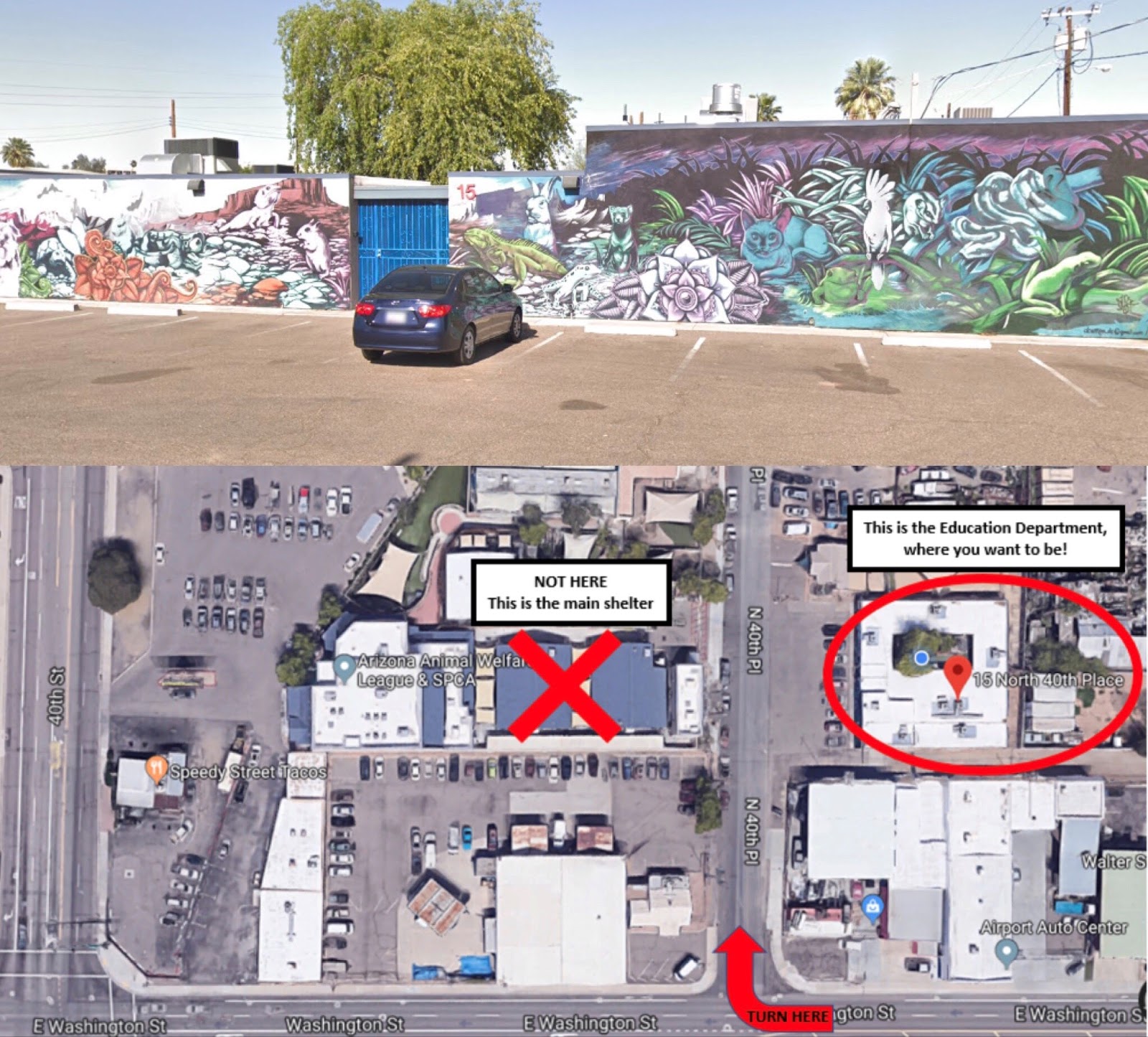 **Please note The AAWL Education Center is located at 15 N. 40th Place Phoenix, AZ 85034.**
This is where drop-off and pick-up will take place, NOT the Sonia Breslow Adoption Center main entrance on 40th Street. If you are using navigation do not set "Arizona Animal Welfare League" as your destination – that will take you to the main shelter, not the Education Department. 15 North 40th Place is the address you want to set as your destination.