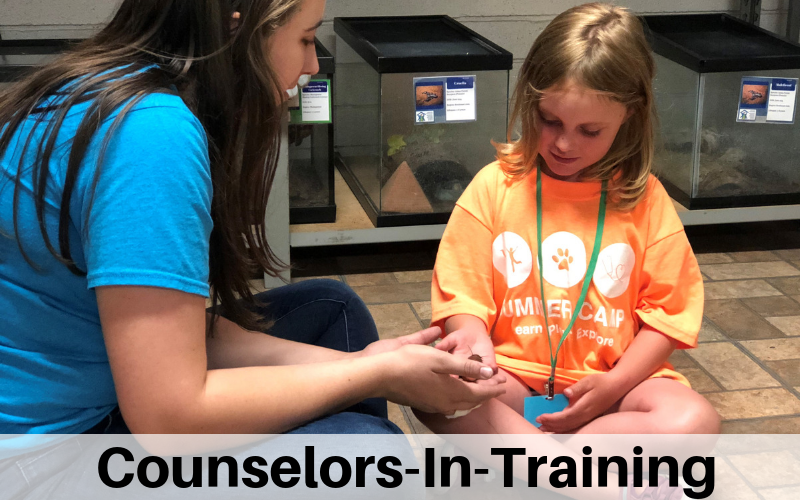 "Counselors-In-Training Camp" provides a unique opportunity for teens to gain the skills needed to become a camp counselor while learning more about their own interests and strengths. This camp includes an AED, CPR & First Aid Certification course. Campers will get first-hand experience working with younger children and get hands-on training with some of our exotic animals.
Activities Include:
CPR & First Aid certification
Dog and Cat CPR course
Dog and Cat First Aid course
Animal handling training with our exotic animals
Daily animal care
20 hours community service
Customer service training
Teens will get the chance to shadow our camp instructors throughout the week in different classrooms, so they can see the different teaching styles of our instructors. At the end of the week campers will use what they have learned from camp and take a leadership role in one of the classrooms where they will get the chance to present one of our exotic animals of their choice.
Teens who complete "Counselors-In-Training Camp" are given preference for positions as staff members once they turn 18.
Prerequisites / Requirements:
This camp is for kids 13-17 years olds
What to Bring:
Release & Liability Form 
Emergency Contact & Authorization to Pick Up Form
Adults MUST show a photo ID every day for pickup, be 18 years of age, and be on the Authorization to Pick Up Form in order to sign out your child
Campers must bring their own snacks and lunch.
Fee:
Cost: $385 per week 
Before and Aftercare available - Before care (8 a.m. – 9 a.m.) is $60 per week (or $15 per day) and aftercare (3 p.m. - 5:30 p.m.) is $125 per week (or $30 per day)
Time: 9 a.m. – 3 p.m.
Ages: 13-17
Location: 15 North 40th Place, Phoenix, AZ 85034
NO REFUNDS are offered on camp registration fees although we will happily transfer your payment to another program.
Upcoming Sessions:
There are no upcoming dates scheduled for this program. Check back soon!