Let the Arizona Animal Welfare League & SPCA Come to Your School for an Unforgettable Experience!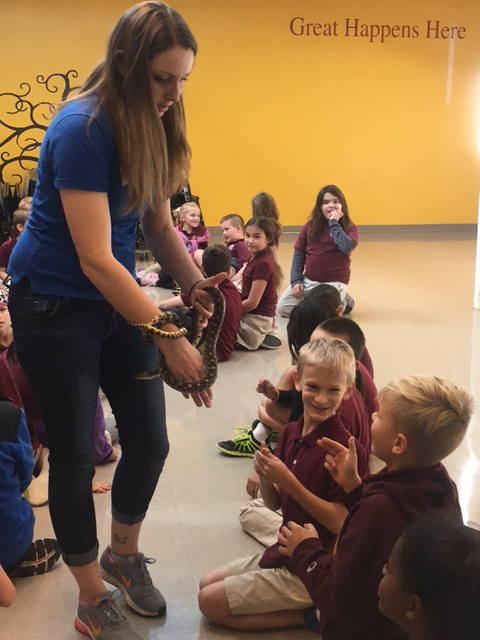 Programs are designed for elementary to junior high students and are aligned with state curriculum standards. Programs can be customized to fit all ages and needs.
Fees:
$195.00 for first 1 hour presentation
$165.00 for each consecutive program
Assembly Presentation (over 100 people) - $375.00
Duration:
60 minutes
Availability:
Can be scheduled any day
Group Size:
Maximum of 75 students per interactive presentation; schedule additional presentation for larger groups or a school assembly.
Younger Students:
Preschool and kindergarten programs will be split into two 30-minute presentations with a maximum of 35 students per half-hour.
Reservations:
For additional information, contact us at: 602-273-6852 Ext. 122
Exotic Ambassadors
Have you always wanted to have an lizard for a pet?  What about a rat? During the hour-long presentation, our knowledgeable staff covers everything from habitats and adaptations to caring for exotic animals. Exotic Ambassadors is a live animal presentation where students can have hands-on interaction with our exotic animal ambassadors. We will discuss the care and needs of a variety of unique pets such as lizards, snakes, rabbits and more, then explore their natural history so we can better understand the needs of our exotic animal friends.
Customized Program
We understand that each classroom has different needs and interests, which is why we will customize a program to fit your school's curriculum. Combine the two programs above or create your own. Give us a topic and let our animal experts bring an unforgettable experience to you classroom!
School Fundraiser
Want to kick of a school fundraiser for the Arizona Animal Welfare League & SPCA? We will come to your school free of charge and give a short presentation at a school assembly. If your school raises over $1,000 in monetary donations we will come back for a free one-hour offsite presentation with an assortment of furry, scaly and lovable animal friends! 
What a great way to get the students involved and excited while helping animals in need!